How can I get remotes for the gate?
John Brown (brunziebrown (at) gmail.com) keeps a supply of remotes programmed with the gate code.  They cost from $12 to $16 depending on style chosen.
How do I get my phone number listed on the gate phone?
Kevin Fields (kfields5 (at) comcast.com) can add your number to the gate phone
How do I open the gate for guests?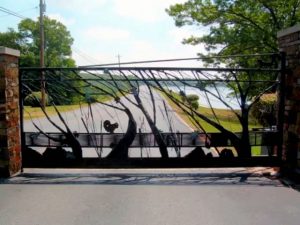 Your guests arriving at the front gate (off Canada Road) should pull up to the gate phone, enter your lot number (or scroll down to find it), and press "Call."  (Lot numbers require a 0 at the beginning; thus lot 32 is 032 on the gate phone.)  The gate phone will call your phone number, the guest can tell you who they are, and you can open the gate by pressing 9 on your phone.  (On some phones you may have to press 99.)  Once you press 9, the gate opens and the call is disconnected—you won't be able to talk to your guest on the gate phone after that.
(Sometimes guests call on their cell phones from the gate but that doesn't allow you to open the gate. They'll need to call you from the gate phone.)
The back gate (off Seed Tick Rd) automatically opens between 6 am and 6 pm. To come into the subdivision, visitors should pull up to within 3 feet of the gate and it will open automatically. When leaving, visitors should pull up to about 10 feet of the gate—it opens inward towards the car—and it will open automatically.
After 6 pm the back gate opens only with a remote.  There is no gate phone at the back gate.
Outside the hours of 6 am to 6 pm, guests should leave by the front gate as the back gate does not open without a remote.
Who do I contact if there is a problem with the gate?
Contact Floyd Groves (tgroves (at) memphis.edu) for problems with the front gate and John Brown (brunziebrown (at) gmail.com) for the Seed Tick gate.  If the proper person is not available call the other.
What are speed limits in East Shores?
The speed limit is 20 mph through the subdivision and 30 mph over the levee. We ask visitors and residents to please abide by this speed limit as there are children, walkers, runners, and wildlife on our winding roads.
Do I need to get approvals to do some remodeling or landscaping on my house?
To preserve the beauty of the East Shores neighborhood, all exterior remodeling and landscaping, including changes in color or composition of materials, must be submitted to the East Shores architectural committee for approval.  Contact John Brown (brunziebrown (at) gmail.com) for more information.
What police entity takes care of East Shores issues?
The Shelby County Sheriff is responsible for public safety in Lakeland.  Call 379-7625.  Also, when there is a safety issue, please notify an East Shores board member.  Of course, always call 911 in a true emergency.
Why is there a sign at the Canada Road entrance prohibiting trucks?  Can pickup trucks drive across the levee? Delivery trucks?
Large heavy trucks can damage the integrity of the levee.  Pickups and small delivery trucks are OK.  Heavier trucks should use the back (delivery) entrance.
How do I get access to the boat ramp?
The East Shores boat ramp (and all boat ramps on the lake) are locked to restrict access to the lake to lake property holders. You may obtain a key from John Brown (brunziebrown (at) gmail.com). Please lock the access again immediately after using it and don't lend the key to non-residents.
When are the homeowners' meetings?
An annual meeting and dinner is usually held within the last ten days of April each year.  Lot owners will receive a notice of the meeting date and time at least ten days prior. During the meetings, business updates are provided and board members are elected.  To vote on issues, the board needs a quorum.  If you're not able to attend a meeting, please assign your voting rights to a trusted neighbor; it will help our association conduct its business and save our (volunteer) officers time and trouble.
Are there recommended companies to use for yard work?
Residents use a variety of companies for yard work and you are free to choose a company you like. The association doesn't recommend or endorse a company, but your neighbors can share their experiences with you.
Are there restrictions to parking on the street?
Overnight street parking is not allowed in East Shores. 
Are RVs allowed to park in the neighborhood?
RV's are restricted, even in your driveway, to short term such as a visitor for a few days.
Can I build a boat dock on my lakefront lot? Can I cover it?
East Shores residents are allowed to build boat docks.  East Shores dock designs require the approval of the East Shores architectural committee; in addition, all dock designs on the lake require the approval of Garner Lake Management. Covered boat docks are not allowed.
Is fishing or picnicking allowed on the levee? 
Fishing and picnicking on the levee aren't permitted.  The park across from the boat ramp has a picnic pavilion and tables for use of East Shores residents and their guests.
Do picnic tables need to be reserved?
Picnic tables normally don't need to be reserved for simple family short-term use but do for larger or longer-term use.
Do I need Garner Lake stickers for my boats?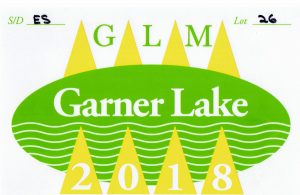 Garner Lake decals are one of the ways Garner Lake residents control access to the lake. The decals are inexpensive and identify you as a resident.  Lake guidelines state that anything that floats requires a decal. They can be purchased by property owners for $10 each from Garner Lake Management (901) 388-9176. 
Where do I find info on boating and rules on Garner Lake?
Lake rules and other useful information are posted at www.garnerlake.com.
Can I park my boat at the docks close to the boat ramp?
The docking spaces adjacent the East Shore boat ramp belong to the homeowners there. Boats shouldn't be parked there without permission of the home owner.
When is garbage and recycling picked up?
Normal trash, yard debris, and recycling pick-up is on Fridays. Larger items may be picked up by special arrangement by calling the city at 901 867-5409.
What can we do to protect our beautiful lake?
Our lake is a fragile environment and our care goes a long way in keeping it clean and unpolluted. Nothing should be put into the lake including leaves, grass, and natural debris. All waters from the streets and lawns enter the lake so we can watch what goes into our gutters and drains. And when we see trash or anything that doesn't belong in the lake, we can pick it up.
Thanks for caring and helping preserve the environment we love.